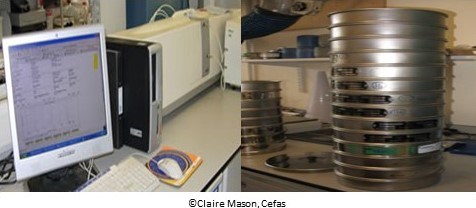 Contract Manager:  Claire Mason, Cefas
Component Administrator (2014-): Apem Ltd
The Particle Size modules concentrate on different aspects of processing and analysis of sediment samples. They are based on quantitative analysis of grab or core samples of marine and estuarine sediments with data provided in half-phi intervals.
The modules are used as both training exercises and for assessment of analytical performance. In the United Kingdom all Competent Monitoring Authority laboratories and their contractors undertaking statutory marine monitoring programmes are required to participate in the NMBAQC Scheme or an equivalent scheme. The minimum participation in NMBAQC is the Own Sample module.  Otherwise labs may opt for whatever modules they consider appropriate although they are encouraged to participate fully and receive all the benefits of the exercises. Participants are provided with a new laboratory code each year to ensure anonymity.
Particle Size (PS)
The Particle Size module is a training / intercalibration module; the purpose of this module is to examine the percentage of sediment found in each half-phi interval from the particle size analysis of replicate sediment samples when following the NMBAQC methodology. Each participant receives four samples, distributed in two stages throughout the year. In each case a random sample of five of the prepared replicates are analysed by the Benchmark laboratory to ensure sample replicate consistency, to assess the degree of inter-sample variation and produce benchmark data. The samples contain a variety of sediment types (mud, sand, gravel and mixed) and are derived from either aggregate material or natural marine sediments. Details of their collection and preparation can be found in the Scheme's Annual Reports and more details on analysis required can be found in the PS Protocol document.
Particle Size Own Sample (PS-OS)
The Particle Size Own Sample module is a training / audit module and the purpose of this module is to examine the accuracy of particle size analysis for participants' in-house samples. Participants will initially be requested to supply a data from of a minimum of 12 samples or full CSEMP/WFD data batches for CMA laboratories from which three will be selected on a semi random basis, i.e. samples are split into batches, on general type (sediment description), and the PS-OS samples are randomly selected from these batches. Where possible, data should be supplied from a range of sediment types. The three samples are supplied from the participant to the scheme contractor to be re-analysed. The selected samples must be split into >1mm fraction, <1mm fraction and laser subsample to facilitate the audit. Selected participant samples are re-analysed by the NMBAQC Scheme PSA contractor following the NMBAQC method and the results are compared. The results of re-analysis audit are fed back to the participant with data on sieve analysis (>1mm), laser analysis (<1mm) and the final data set (data merging). Participants are always free to discuss comments with the Contractor or Scheme manager - the aim being to communicate openly and use the feedback to improve quality (e.g. identifying issues that participants may be unaware of or providing reassurance that laboratory methods are appropriate). More details on analysis required can be found in the PS-OS Protocol document.
"Pass/fail" criteria are currently under review for the PS component. There are multiple factors that can affect PS results, for example laser model, sample homogenisation, sub-sample preparation and the use of ultrsonics to name a few; due to this participants are requested to provide as much metadata as possible to enable the contractor to discover what is the potential cause of any differences in the data.
At present, results are broken down for review, including, sieve processing, laser processing and final data. Laboratories then received a "Good" or "Review" flag for each of these areas based on their results; "Review" flags came with accompanying comments as to where mistakes have been made and how to correct them. This approach was thought to be more informative and would help participants to identify errors and correct any issues for future exercises. Work to establish statistical "pass/fail" criteria are currently ongoing.